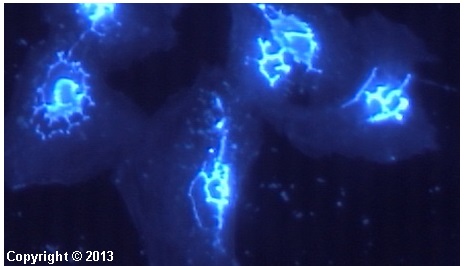 We are committed to excellence, quality and high editorial standards.
DISCOVERIES
ISSN 2359-7232
2016 - July-September issue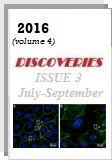 This issue published all articles accepted between July 1st and September 30th, 2016.
.
Interview Article
Discoveries Interview: Professor Harold F. Dvorak on the discovery of Vascular Endothelial Growth Factor (VEGF)
"Dr. Harold F. Dvorak is the founding Director of the Center for Vascular Biology Research (CVBR) at the Beth Israel Deaconess Medical Center (BIDMC) and the Mallinckrodt Distinguished Professor of Pathology at Harvard Medical School. In 1983, Dr. Dvorak and his colleagues were the first to demonstrate that tumor cells secreted vascular endothelial growth factor (VEGF), known at the time as vascular permeability factor or VPF. This seminal discovery provided the molecular basis for the field of angiogenesis. Dr. Dvorak went on to make the critically important observation that tumors behave like "wounds that do not heal" in that the vascular and stromal responses they induce closely mimic those of healing wounds." Read more... Read more 2... Read more 3...
Review article
Quantitative dynamics of VE-cadherin at endothelial cell junctions at a glance: basic requirements and current concepts
Jochen Seebach, Jiahui Cao, Hans Schnittler* (
Germany
)
Corresp. authors' affiliation: * Hans-Joachim Schnittler, PhD, Managing Director of the Institute of Anatomy and Vascular Biology and CiM Research Group Leader, Münster, Germany.
Perspective article
Simple Chemoinformatics Criterion Using Electron Donor-Acceptor Molecular Characteristics for Selection of Antibiotics Against Multi-Drug-Resistant Bacteria
Veljko Veljkovic, Sanja Glisic, Vladimir Perovic, Slobodan Paessler, Nevena Veljkovic, Garth L Nicolson* (Serbia and USA)
Corresp. authors' affiliation: * Garth L. Nicolson, PhD, Director of the The Institute for Molecular Medicine, Huntington Beach, CA 92647 USA.
Advanced modular automated calculation of the morpho-histological parameters in myocardial infarction
Lucian Pop-Fele, Adelina Curaj, Marko Jovanovic, Stephan Michael Jonas, Julia Moellmann, Doina Ghertescu, Ovidiu Constantin Novac, Mihaela Rusu, Elisa A. Liehn (
Germany and Romania
)
Corresp. authors' affiliation: * Elisa A. Liehn, MD, PhD, Institute for Molecular Cardiovascular Research (IMCAR), University Hospital Aachen, Aachen, Germany.
.
Biodistribution and scintigraphic evaluation of 99mTc-Mannan complex
Sweta Sanguri, Damodar Gupta*, Ajay K. Singh (
India
)
Corresp. authors' affiliation: * Damodar Gupta, PhD, Department of Metabolic Cell Signaling Research, Institute of Nuclear Medicine & Apllied Sciences (INMAS), Defence Reserach and Development Organization, Delhi 110054, India.
News & Events
Latest news from Discoveries
2017

|

PubMed inclusion News!

Discoveries successfully passed the Scientific Quality Review by NLM-NIH for PubMedCentral and PubMed indexing (2017). This is the first and the most important step towards PubMedCentral and PubMed indexing! The second (last) step is the Technical Review, which should be without problems.

April 2016

|

Faster Peer-Review

Starting on April 13th 2016, all articles selected for a peer-review will receive the post peer-review decision within 10 days. The initial pre-screening time will remain the same (48h from the submission of the manuscript). This decision will significantly accelerate the publication, with no effect on the quality of the peer-review process.

February 2016

|

Manuscript submission

Discoveries is commited to excellence, quality and high editorial standards. We are receiving an increasing number of manuscripts for which the identity of the authors/corresponding author can't be verified. Please NOTE that ALL these articles were and will be immediately REJECTED. Indicating an institutional email address is the easiest way to overcome this problem! Moreover, we do not accept any pressure on our editorial board to accept a manuscript. This results in a prompt rejection of the article.

Editorial Policies
January 2016

|

Main Objective

After reaching all proposed milestones until now (including being indexed by Google Scholar in 2014), Discoveries' next Aim is PubMed indexing of all its articles (already published and upcoming). There will be no charge for the submission or publication of articles before Discoveries is indexed.

August 2015

|

Discoveries - on PubMed

We are happy to announce that our first Discoveries articles were included in PMC and PubMed. More articles (submitted by NIH funded authors) are now processed for being included.

Discoveries articles now on PubMed
April 2015

|

Special Issue

DISCOVERIES published the SPECIAL ISSUE entitled "INFLAMMATION BETWEEN DEFENSE AND DISEASE: Impact on Tissue Repair and Chronic Sickness".

Special Issue on "Inflammation"
2015

|

Ischemia Collection

DISCOVERIES launched a call for papers for a Collection of Articles with focus on "ISCHEMIA". If you are interested to submit a manuscript, please contact us at info@discoveriesjournals.org

September 2014

|

Special Issue

DISCOVERIES just publish the SPECIAL ISSUE entitled "CELL SECRETION & MEMBRANE FUSION" in September 2014. Initially scheduled for publication between October 2014-March 2015, this issue was successfully published earlier than scheduled.

Special Issue
April 2014

|

Indexed by Google Scholar

All our published articles are now indexed by Google Scholar! First citations to Discoveries articles are included! Search for the article's title (recommended) or the authors:

Google Scholar Search
2014

|

DISCOVERIES

DOIs (Digital Object Identifiers) are now assigned to all our published manuscripts in Discoveries. DOI uniquely identifies an article and is provided by CrossRef.

CrossRef
July 2013

|

Manuscript Submission

Submit your manuscript FREE, FAST and EASY ! (in less than 1 minute)! There are NO fees for the manuscript submission or publishing of the accepted manuscripts.
read more

July 2013

|

DISCOVERIES

We are now ACCEPTING MANUSCRIPTS for publishing in DISCOVERIES. We aim publishing a small number of high impact experimental articles & reviews (around 40/year) to maintain a high impact factor. Domains of interest: all areas related to Medicine, Biology and Chemistry ...

read more